Sustainability Governance and Policies
Effective corporate governance allows us to succeed in the long term and manage a wide range of sustainability issues. We are committed to a high level of business ethics for the benefit of our stakeholders. Our board oversees sustainability risks and opportunities and is supported by our leadership team and committees. The integration of ESG principles into our business operations and risk management is enabled by policies and processes which reference international standards.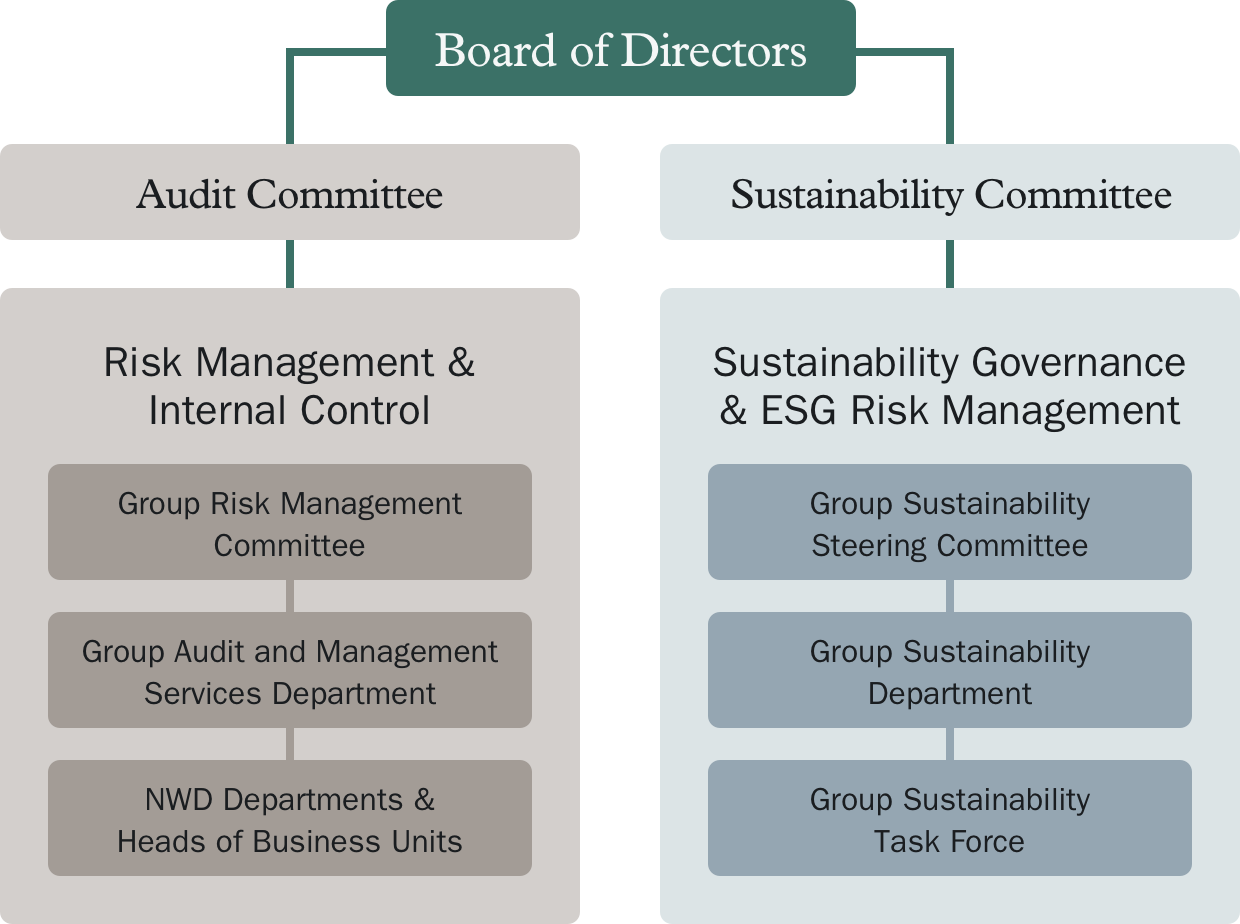 Our Management Structure
To demonstrate NWD's commitment to sustainability, we integrate sustainability management into corporate governance structures throughout the Group – from board-level committees to management-level group functions and business units. The Board of Directors fulfils its responsibilities by delegating to five board-level committees including the Sustainability Committee, which oversees the Group's management of ESG and sustainability endeavours.

Memberships and Roles
Sustainability Committee
Chaired by our Executive Vice-chairman and Chief Executive Officer, the Sustainability Committee comprises four independent non-executive directors and one executive director. The Committee directly oversees and advises on the Company's sustainability strategy, work plans and performance targets to advance NWD's ESG leadership.
Committee Members
Group Sustainability Steering Committee
The Steering Committee reports to the board-level Sustainability Committee and comprises senior executives from Group functions and major business units. The Steering Committee drives the practical implementation of sustainability initiatives and manages their performance to support the Sustainability Committee.
Group Sustainability Department
Reporting directly to the Executive Vice-chairman and Chief Executive Officer, the Group Sustainability Department drives SV2030 and relevant Group-wide initiatives across major businesses and functions. In particular, it furthers actions and impact towards a sustainable property lifecycle.
Group Sustainability Task Force
Comprising members from various business units across the Group, the Task Force serves as a knowledge exchange platform to drive ESG management and the implementation of SV2030. Task force members are also ESG Persons-in Charge, who support their respective business units in flagging ESG risks to the Group, implementing sustainability policies and compiling information for ESG disclosure.
Materiality Matrix
Through communicating with our stakeholders regularly across various channels, we recognise key sustainability issues of interest to our business, as well as opportunities to further our efforts for sustainable growth.
Materiality evaluation helps us gain deeper insights into sustainability concerns relevant to various stakeholder groups and their perception of our sustainability results. The insights provide valuable guidance on how we form our focus and targets to lead the Group towards our SV2030 objectives and plan for upcoming initiatives.
Policy Downloads
We have a comprehensive set of policies which outlines our sustainability commitments and guidelines in our daily operations.
More (7)
Less