Taking Action on Climate Change
Climate change is an imminent threat to the world. People from all walks of life are seeking different solutions to deal with this urgent environmental issue. As a leading cultural enterprise, NWD recognises that sustainability is a top business priority. We're committed to doing our part to address challenges and working alongside wider society to make positive change. We aim to achieve the targets set out under our Sustainability Vision 2030 and integrate climate change considerations across our businesses, contributing to UN SDG 11 Sustainable Cities and Communities.
A Benchmark in Green Building Design:
Victoria Dockside
Victoria Dockside is one of our projects incorporating climate-friendly building design.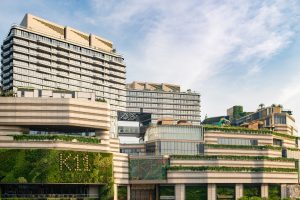 Victoria Dockside is Hong Kong's first purpose-built art, design and cultural district, situated along the harbourfront in Tsim Sha Tsui. The district comprises an A-grade office building, K11 ATELIER, cultural-retail destination, K11 MUSEA, and luxury residences, K11 ARTUS. Victoria Dockside is connected to the wider neighbourhood via the harbourfront promenade Avenue of Stars and Salisbury Garden.
The project stands out for its groundbreaking microclimate control, reducing the heat island effect – when building surfaces and their surroundings absorb and hold heat resulting in higher temperatures. The project also improves thermal comfort for visitors and stays resilient to climate risks. Watch the video below to learn more.
Well-Prepared for Uncertainties:
Climate Risk Scenario Planning
Coastal areas are inevitably prone to risks such as floods and extreme weather events brought by climate change. In addition to green building design, we undertook climate risk scenario planning with an external consultancy for 14 major existing sites in the Greater Bay Area, including Victoria Dockside. The study sheds light on the potential physical risks that we might be exposed to and how we can enhance our existing assets to protect our customers and the building structure.
Reducing Water Risks:
Adopting the "Sponge City" Concept
To tackle potential water risks, we have adopted the "Sponge City" concept – a design that absorbs and captures rainwater and utilises it to reduce floods – in our projects. Various measures have been taken in Greater Bay Area development projects, including Canton First Estate, Ningbo New World and MOUNT PAVILIA to lower flood risks by enhancing water absorption capacity and redistributing water loads.
For example, rainwater harvesting and onsite greywater treatment provide irrigation water in the MOUNT PAVILIA residential project. Canton First Estate, located in Foshan, China, is also embedded with a rainwater harvesting system which collects water for irrigation. Along with other features such as a bio-retention pond and green landscapes, Canton First Estate can withstand a once-in-50-years torrential rainstorm event. Ningbo New World incorporates several Sponge City features, including a bio-retention pond, a rainwater garden, permeable pavements and an ecological rooftop, enhancing the climate resilience of the neighbourhood.
Supporting the Task Force on
Climate-related Financial Disclosures (TCFD)
In the financial year 2020, We have pledged our support to the Task Force on Climate-related Financial Disclosures (TCFD) after attempting to disclose climate risks and opportunities based on their recommendations in the financial year 2019. Going forward, we will continue to explore different ways and best practices to build safe, resilient and sustainable communities.
Further Reading
Learn more from our Climate Change Policy and Water Policy, implemented in 2020, including our commitments and approaches to addressing relevant issues.